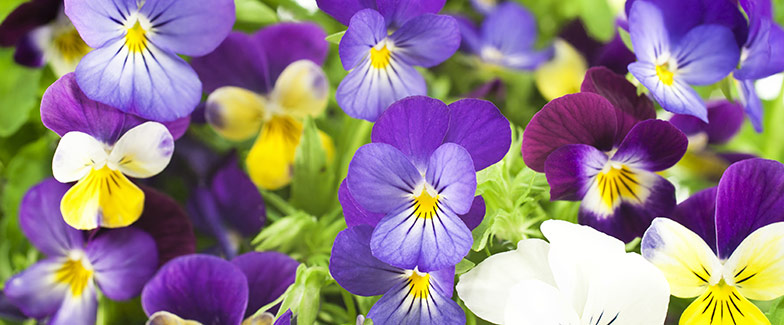 Fall in Kansas City means cool, crisp weather and a spectacular display of color as the trees turn gorgeous shades of deep purple, crimson, rusty orange, and gold. As your summer colors begin to fade, bring some of those fall colors into your landscape beds with some fall annuals.
There are two times of year when you should add color to your landscape beds: spring and fall. Fall annuals should be planted when the daily temperatures begin to stay in the 70s. If they're planted when the weather is still too warm, the heat will damage the plants. Different plants have different bloom times. In most cases, the earlier you plant annuals, the soon they will complete their show of color. Once there is a hard frost, most of your color will turn brown. For this reason, it is important to carefully plan your fall landscape to take advantage of the different bloom times so that you can enjoy the maximum duration of color.
You will want to select flowers that thrive in cooler weather. Hardy species are ideal, but you can also incorporate some less hardy annuals as well. While they may not last as long as the hardier varieties, they will contribute beautifully while they last. Some flower species that work great in fall displays include:
Chrysanthemums, or mums, are a favorite among the fall annuals. They come in virtually every color except blue, including rusty orange, yellow, and magenta that are perfect for fall beds. They also offer a variety of petal configurations. Mums are a hardy species that will bloom for about 4 to 6 weeks.
Aster is another popular flower for fall. They grow big fast and tend to bloom slightly earlier than mums. If you combine them with mums, they will be done just as the mums are ready to bloom, extending your overall bloom time. Asters come in shades of white, pink, and purple.
Pansies thrive in cool weather, making them perfect for fall. They come in a variety of colors, with purple, white, yellow, and red making excellent additions to fall displays. Pansies look great when they are placed in front of taller flowers to create layers of color.
Marigolds make great border plants and work well in containers. They offer cheerful yellow, orange, and burgundy colors that are ideal for fall.
Zinnias are popular summer flowers due to their ability to withstand the heat and bloom all summer, but they are also a great choice for fall. There are several varieties of zinnias that come in a range of colors, including shades of red, orange, and purple.
Nasturtiums, with their rich jewel-toned colors, are perfect for fall flower beds. There are several varieties of nasturtiums, from bushy plants that work great for borders to trailing plants that add height to your garden.
Sunflowers are a great species to use for a backdrop for other annuals, thanks to their height. Depending on their height, they may need to be staked.
Ornamental kale and cabbages provide unique color and texture to your fall display. These plants thrive in cold temperatures, down to 20 degrees. They come in a range of intense colors, including pink, purple, and red. Ornamental cabbage typically grows into large rosettes of broad, flat leaves, while ornamental kale feature ruffled leaves in a tight rosette.
These are just a few options for your fall display. When selecting plants, look for colors, forms, and textures that will combine to create visual interest. A red-yellow-orange color scheme is a classic combination for fall that celebrates the harvest season. A metallic combination using gold, silver, and bronze is another popular fall color scheme.