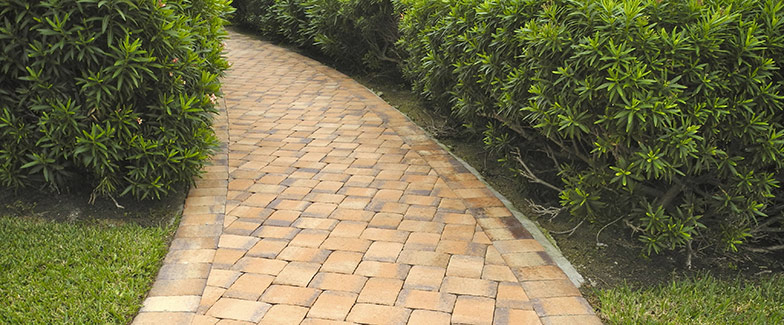 When it comes to selecting a hardscaping material for a new patio or walkway, the two that come to mind first are stamped concrete and pavers. But deciding between the two can be difficult. While both are beautiful, there's more to consider than just aesthetics. Durability and the maintenance required should also be taken into consideration. Stamped concrete and pavers each offer their own advantages and drawbacks.
Pavers:
Pavers are often considered to be the most beautiful hardscaping material. They are designed to be extremely durable, able withstand harsh weather and heavy loads. While pavers have a slightly higher upfront cost to install, they require very little ongoing maintenance, which helps offset this cost over the long term.
Advantages:
Pavers are about three times stronger than poured concrete. It is one of the strongest paving materials, rivaled only by brick.
When installed correctly, pavers will not crack.
If needed, making repairs to a paver patio are easy. Simply lift out the damaged paver and replace it with a new one.
Pavers won't absorb moisture, making them resistant to the freeze-thaw cycle.
They will not become slippery when wet.
Pavers usually have lower heat absorption than other materials, which means they won't be as hot on bare feet.
Joints in the surface of a paver patio allow rain and snow to drain. This aids in skid resistance and help decrease glare.
Pavers are available in an extensive range of styles and colors, making it simple to design a patio that will complement your landscape. You can also mix different colors and styles to create beautiful patterns and designs.
A paver patio can be used immediately after installation.
Drawbacks:
Pavers are not available in as many colors as stamped concrete.
Unless polymeric sand is used between the pavers, weeds can grow between them.
Over time, a paver patio can settle and become uneven. This can be avoided by using a properly installed base material.
The space between pavers may need to be refilled with sand periodically. Again, using polymeric sand can help eliminate the need for adding additional sand.
Stamped Concrete:
Stamped concrete is a popular hardscaping material for good reason. It is available in a nearly endless range of colors and patterns and is typically less expensive than pavers, although it does require periodic maintenance.
Advantages:
Stamped concrete is available in a wide variety of colors and patterns.
The initial cost of installing stamped concrete is less than the cost of installing pavers.
Stamped concrete is sealed, which protects it from both harsh weather and chemicals.
Stamped concrete can be created to imitate the look of other, more expensive materials, such as natural stone or brick, at a lower cost.
Drawbacks:
Concrete will show wear and tear over time. Because it is flat concrete, stamped concrete will eventually crack. This is in part due to the fact that concrete shrinks over time.
If repairs are needed, it may be difficult to perfectly match the color and consistency of the original concrete.
Stamped concrete cannot handle the same amount of pressure and weight as pavers. It should not be driven on or used for driveways.
Stamped concrete will absorb moisture and is not resistant to freeze-thaw cycles, which can lead to cracking.
Large areas requiring multiple trucks may result in variations in color. The color of stamped concrete may also fade over time.
Stamped concrete becomes slippery and develops a glare when wet.
It needs to be resealed every few years.
While the initial cost of stamped concrete is less expensive than pavers, the required maintenance costs may make it more expensive over the lifespan of the patio.
A stamped concrete patio needs to cure and cannot be used for three to five days after installation.
In addition to considering the advantages of and disadvantages of both stamped concrete and pavers, also consider which will blend best with your landscaping as well as the exterior of your home.